The Martin Family Benefit Concert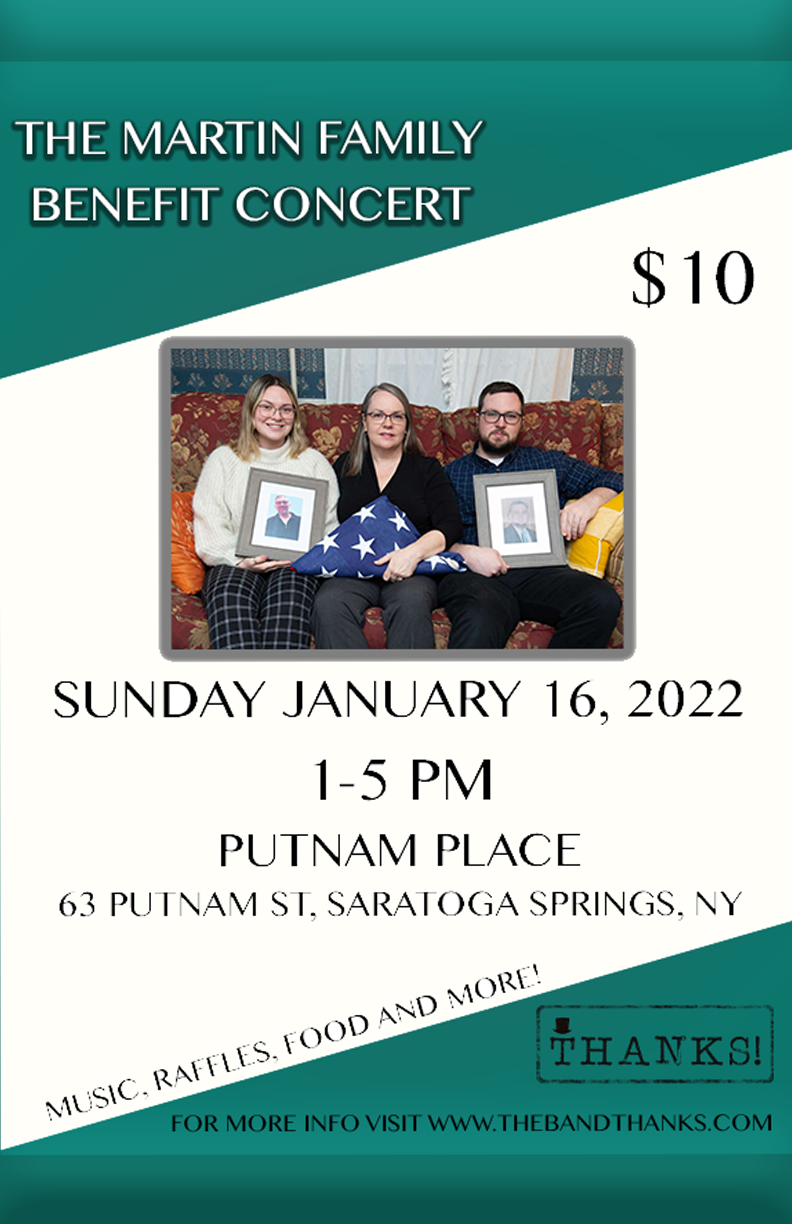 THANKS! AND PERPETUAL VIBES TO HOST THE MARTIN FAMILY BENEFIT CONCERT AT
PUTNAM PLACE IN SARATOGA JANUARY 16th, 2022
SaratogaSprings,NY-Thanks! and Perpetual Vibes LLC are combining forces to host a benefit concert for the Martin Family on Sunday 1/16/2022 from 1-5 pm at Putnam Place in Saratoga Springs, NY.
Back in November, Thanks! Drummer Ben Martin and his family were devastated by COVID. They lost Ben's father, Rick (57) and Ben's brother Jacob (27) to this horrific disease within six days of one another. It has been an incredibly difficult time for the family and for everyone close to them. The unimaginable has taken place and we are all still trying to process this tragedy.
Read more here: https://www.timesunion.com/news/article/COVID-does-the-unthinkable-Father- son-die- 16632441.php?fbclid=IwAR1PfjSKyC0FwUm0vyepabwGxVRQoTO3gmaQFZFPyAn8RVZHwOO3e5 2rtXU
When times get tough, we all grow stronger together and Thanks! is now calling on the community far and wide to come be with us and rally around this wonderful family. There is no greater force than music to bring everyone together and we wanted to host a benefit concert to do just that.
Tickets will be $10. There will be raffle baskets, a 50/50 raffle and of course an entire day of entertainment from many local bands and much more! All proceeds from the event will be donated directly to the Martin family to help them through this difficult time.
If you would like to donate a basket, money, or time to this event, please reach out to Michelle at [email protected] or by phone at (239) 834-1022. Acommunityoutreachwillbeginnextweekaswelookforcharitablesponsorsforthisevent.
There is also a GoFundMe account that has already been created for the Martins. If you would like to donate to the cause, please find it here: https://www.gofundme.com/f/the-eustis-martin-familys- immeasurable-loss?utm_source=facebook&utm_medium=social&utm_campaign=p_cp%20share- sheet&fbclid=IwAR2ceg8VAdIijIDi5xVekffLvz_WkAdRCWbP9KAkH7YNSfo7VMxZcATUfTI
COVID has taken a lot from all of us. It has been the most difficult time that any of us have seen in a long time, if not ever. We hope that we can all band together during this time and prove how strong our community is. We thank you in advance for your generosity and support.
December 23, 2021 Michelle Moyer PerpetualVibes,LLC
p.1-239-834-1022